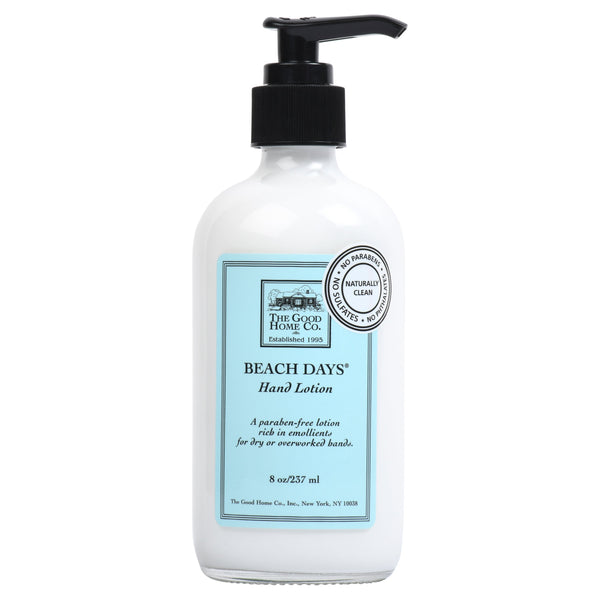 Our Hand Lotion will be back in stock soon in our new 8 oz glass bottles! 

Over 95% plant and mineral based, our hand lotion is moisturizing, but not heavy and greasy.  making it perfect for hands in the kitchen or bathroom or as a light all over body moisturizer in warmer/months/climates.  Paraben-Free, Phosphate-Free, Sulfate-Free, Phthalate-Free, Cruelty-Free, 100% Vegan.
8 oz. glass bottle.
Apply liberally as often as needed.
Our products do contain preservatives, but in minimal amounts.  Therefore we suggest using the product within one year of purchase.
Water (Aqua), Helianthus Annuus (Sunflower) Seed Oil, Cetyl Alcohol, Aloe Barbadensis Leaf Extract, Caprylic/Capric Triglyceride, Ceteareth 20, Glycerin, Stearic Acid, Fragrance, Glyceryl Stearate, Xanthan Gum, Tribehenin, Panthenol, Tocopherol, Citric Acid, Caprylyl Glycol, Potassium Sorbate, Sodium Benzoate.
Good Home fragrances are of the highest quality and free of parabens, phthalates, carcinogens, reproductive toxins, mutagens, organ toxins, acute toxins, prop 65 chemicals, and any other potentially hazardous chemicals often found in fragrance. Our products and scents are IFRA compliant.
Good Home fragrances are of the highest quality and free of parabens, phthalates, carcinogens, reproductive toxins, mutagens, organ toxins, acute toxins, prop 65 chemicals, and any other potentially hazardous chemicals often found in fragrance. Our products and scents are IFRA compliant.

Beach Days- Change your home into a wonderful beach house retreat no matter where you live! Beach Days® captures the essence of a perfect day by the sea in a bottle. (SB)